Pulse of the Twin Cities Login
If you do not have an account yet Create One.
Twin Town High (vol. 8)
'Round the Dial: Best of the Year


Thursday 28 December @ 15:22:19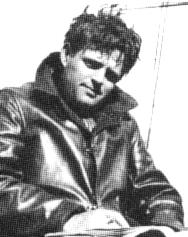 by TOM HALLETT

QUOTE OF THE WEEK: "You can't wait for inspiration- you have to go after it with a club."- Jack London

SONG OF THE WEEK: "One Big Holiday" - My Morning Jacket

"2006 was the worst year for America I can ever remember in my entire lifetime," my 17-year-old son utters in a matter-of-fact tone. Not that he's reached that hopelessly cynical state he'll attain after his first real college sweetheart dumps him, or that he's a boy on the edge of man-hood in a time when the reinstatement of the draft is a very real possibility, or even that he's pissed about working more than playing just for the privilege of driving a vehicle he can barely afford the insurance on, not to mention the gas to run.

Naw, he feels that way because it's simply, undeniably true. Politically, morally, socially, and entertainment-wise, Ought Six was a fucking rash in the middle of a decade that may never be defined as anything more than the simple loss of leadership, common goals and respect of not just a nation, but an entire planet. Thank the stars, then, that there have been literally dozens of bands/artists who have stepped up to the ol' plate and delivered their takes on said state-of-shit, whether positive, negative or simply in (Ha! I'll throw it back at 'em one more time!) SHOCK AND AWE!!

While I presume it's decidedly less stressful, spawns and leaves behind a few more lasting pleasant memories, and provides endless hours of high-fiving for the old "half-full" crowd, I'm also equally sure that living during times of war, pain, misery, planetary suffering and social isolation and/or "pack mentality" also literally pours inspiration upon the arts crowds- it's no secret that most of history's finest art, literature and music has been created/inspired during times of toil, trouble and despair.

2006 was, then, perhaps a perfect year for a plethora of both established and lesser-known artists to strike deep and perfectly on-target at the hearts of those matters and more. I don't need to remind you of the daily tragedies and atrocities being perpetuated upon mankind by mankind- all ya need for that is yer TV, radio, computer or newspaper.

What all this spewage is leading up to, of course, is my 2006 Best Of List, wherein I remind all of you (and myself, and the artists in question) who and what inspired me the most over the past 12 months musically. My criterion for this annual list is a bit different than those of most writers- and for several good reasons. First of all, I've been out of town for a while and filing my reviews via e-mail, therefore I have absolutely nothing definitive to say about the "local live scene" or any of the Twin Cities politics that may surround them.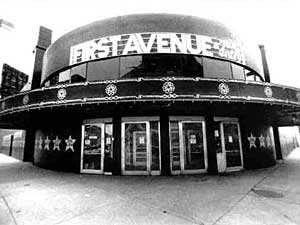 I will say I continue to read and hear great things about some of the places I've always loved and enjoyed listening to music in- First Avenue, The Entry, The 400 Bar, The Triple Rock, Turf Club, and Big V's all come to mind right off the bat. Having spent half the winter now in a town at the top of the world with three tiny music venues and not many more live bands, I've really come to appreciate the diversity and dedication of the T.C.'s various venues and their staffs. They all know who they are- keep doing what you're doing, and maybe we can pass the flame on in some real, honest way to those coming up behind us.

Same goes for the writers- most of my long-time readers know I don't put much stock in what the robotic wonks that pass for music writers in most corporate rags have to say, but locally, you can always count on Jim Walsh, Ross R., Peter Scholtes, Jack Sparks, that Pizza Delivery blog guy, and (no pay-offs, folks, I'm a freelance writer, so pointless ass-kissing gets me nowhere here at Pulse) in particular the in-depth interview coverage Pulse's own Steve McPherson puts in on a weekly basis all have kept me entertained, informed, and up-to-date on local, regional and national music news/info/blabbing. You're all very much appreciated and I'd doff my hat to you, but I think it just might be frozen to my hair about now.

SO- it's on to the music then. I'm not making out some predictable, scene-sniffing list or boring, long-winded commentary on the whos, whats and whys, but I will say that the music I've heard over the past year, particularly out of the Cities, has kept my faith in the power of sound and even occasionally watered a seed of hope here and there for the next generation.

I'm not going to relegate the music that moved me to exact release dates- some of these songs/artists have been around for a year or two (or sometimes way, way more), and some of them hit my eardrums for the very first time in '06. I'm judging this music on how much I listened to it, or how much of an impact it may have had on myself or my life in 2006; not by the exact year of release, though I'm pretty much staying within the 2005-6 timeframe.

I think the important thing is that these folks should know how much they're appreciated and how much of an impact just one guy hearing their music can have- I've played songs in the past six months here in Alaska that had never moaned out over these frozen mountains and picture-perfect moon. People who may otherwise have never had a clue about these bands/artists are now at least aware (and some have even become active fans, buying records and the whole shebang!) of just how much great stuff there is out there. I'm just glad I had it all to help pass what really was one hell of a crazy year.

I've toasted old friends- some living, some passed on- to the dancing, winking blaze of the Northern Lights, rolled like a mad-man down snow-encrusted hills during balls-to-the-wall parties, and gleefully cranked the volume to the figurative "11" during DJ gigs to most of the artists I've listed here. Some have made me laugh, some have brought unbidden tears, others merely left me with a satisfied smirk on my mug. No matter the where, when or how, though, they've all left indelible marks upon my psyche.

If it strikes me with that much force, I can only imagine what it must be like to be one of those artists and knowing their music has reached so far, touched so many people and is treated with the same respect and care that the most popular, over-hyped, in-the-moment artist knockin' at the number one spot on the charts this week might be. Me, I can't wait to get back home this spring and see as many of these folks play out live as I can. We'll start with local stuff and go from there.

So here we go, in no particular order, and with very brief asides ...

ROUND THE DIAL'S PERSONAL 2006 BEST-OF LIST:

Local Releases:


1) Frog Holler- Haywire. An epiphany each and every time I play this record. It so completely and totally encapsulates a Midwestern winter to me that I know it'll be a favorite for years to come. My fave tune from this one is called "74." A beauty of a record.

2) John Ewing- Augustine. I've watched this album grow and morph into the final, perfect slice of Ewing's personal musical poetry that it is. Along with a few other artists on this list, Augustine not only captures a special, once-in-a-lifetime moment on the St. Paul music scene (i.e. when the Turf was still the "Old Turf") but for me, every word of it hits home like a lead-filled baseball bat. Truly inspiring.


3) Big Ditch Road- Suicide Note Readers' Companion. Yes, I know, technically it's not a "fresh" release, but don't let most of those uppity corporate writers fool you- it's rare, with a constant in-flow of great local and national music hitting the old inbox, for a critic to just allow a great record (especially a local release these days) to soak in, to mean different things at different moments with different people, and to really, truly, honestly become a part of a writer's inner world. This album is one of them, and if you don't own it I feel sorry for you.

4) Tim O' Reagan- Self-Titled. I've always loved Tim's work, whether it was a simple, hop-on-stage moment at the 400, my secret live recordings stash or the contributions he made to Jayhawks' releases. I don't know if Tim would refer to himself as a "local" artist anymore, but as far as I'm concerned he's OURS, dammit! This album, had there been any order to my list at all, would have hands down been my favorite record of the year. There are so many note-perfect, lyrically magical moments on this album I've literally run the gamut of emotions just about every time I've listened to it all the way through. A masterpiece.


5) Ol' Yeller- Good Luck. Frankly, Ol' Yeller hasn't put a crappy record out yet, and I've genuinely loved each release Rich Mattson and Co. have honored us with, so I put this record down the list a bit, too. Wouldn't look good if I gave Rich top billing every year- but between you and I, I've got "Jean Jacket Weather" CRANKED on my stereo right now. This is one band that's so overdue for a big break it sometimes makes me want to crawl under my bed and just stay there because it hasn't happened yet. WHAT'S WRONG WITH PEOPLE? Ol' Yeller should be, if not number one, in the top five of, any normal list for both live performances and recording, and this excellent album captures another piece of local history on the move.

6) High On Stress- Moonlight Girls. Someday you're going to be in the local section of your local music store and you'll remember this band name. Or you'll notice they're playing at a pub not far away. Buy the record. Go to the show. If they don't kick your ass, see your eye/ear/nose/throat specialist immediately. A bruised, brittle gem of a record.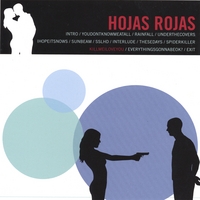 7) Hojas Rojas- KillMeILoveYou. A sharp, bright glimpse into a style and a lyrical direction that's both comfortingly familiar and challengingly curious. Check out their website, find the song "Spiderkiller," then tell me I'm wrong. Fabulous.

8) Capitol Sons- Self-Titled. These guys have grown leaps and bounds in the past year or two, and this collection of ditties proves they're ready for the next phase. One to be proud of.


9) Middlepicker- Brings The Nasty. Listening to this band is like dreaming that you're alternately alone at an empty table in a late-night eatery somewhere south of Hoboken and in the passenger seat of a '67 Mustang hard-top being driven a 100 miles an hour down the freeway by a bottle-swilling stranger with wrap-around shades, black leather and a hefty silver flask. Exhilarating, but you're not afraid. Besides, the music's too loud to complain. Superb.

10) Frances Gumm- Scorch The Earth. OK, I just got this album a few weeks ago, but I've known a lot of the songs for a few years, so it's goin' on this list. Guaranteed, it's going to scare some hearty winter crab-fishermen as it blasts out of my friend's rusty jeep as we cruise the seasonally-challenged beaches here, but the message behind this blazing post-punk outfit is so intelligent, so on-the-money and so truly patriotic I'm thinking Paul D. and crew might finally start getting their due this year. Either way, it ain't leavin' my CD player for awhile.

TOP FIVE NATIONAL RELEASES:

(See Pulse Archives For The Whys And Wherefores)
1) Willie Nelson- Songbird
2) Golden Smog- Another Fine Day
3) Tim Easton- Ammunition
4) Matthew Ryan- From A Late Night High Rise
5) Kris Kristofferson- This Old Road

HONORABLE MENTIONS IN BOTH CATEGORIES:
Tom Feldmann- Driven To My Knees / Paul Westerberg- Soundtrack to Open Season / Martin Devaney- Letters Never Sent / Soul Asylum- The Silver Lining / The Drams- Jubilee Dive / IV Thieves- If We Can't Escape My Pretty / The Whipsaws- Ten Day Bender / The Black Keys- Magic Potion / Ben Lee- Awake Is The New Sleep / Dwight Yoakam- Blame The Vain / Neil Young- A Prairie Wind.

AND LEST THEY BE FORGOTTEN, A FEW MORE FOLKS WHO JUST MADE THINGS BETTER:
Bob Dylan / Charley Dush / Mike Nicolai / The New Vintage / Randy Weeks / Matthew Grimm & The Red Smear / A Failed Escape / The Roach Brothers / Steve Earle / Charlie Parr / The Front Porch Swingin' Liquor Pigs / Vic Chesnutt / Terry Walsh & The Belfast Cowboys / Dan Israel / Steve Wynn / The Guillitene / The Blue Mollies / Swamp Twister / Brice / Barry Thomas Goldberg / Popcycle / Lifestyle Of Wigs / The Mad Ripple / Divorcee / The Ike Reilly Assassination / Kruddler / James McMurtry / John Swardson. Yeah, I know that there's a cast of dozens I'm sure I've forgotten but will immediately smack myself on the head for when I next hear 'em- you all know who you are.

One thing's for sure- through all the corporate/governmental sludge and phony-baloney social trends scarring 2006, a bevy of great old and new artists kept right on putting out some of the best music in the world, and a lot of 'em were right there in your own back yard.

New Year's Resolutions? Bah, humbug! Just do yourselves a favor and open your ears and souls up to some of the artists listed above, and you'll find that no matter how bad it looks, there's always a grain of hope, a fresh idea or even just a soothing couplet that'll help ya through it. SUPPORT YOUR LOCAL LIVE MUSIC SCENE!! You might be surprised how much it'll support you in return.

Here's to a better next year. Keep them albums, letters and tips comin'- I honestly and truly do appreciate them. Awright, better start breakin' up the coffee table- looks like we're outta firewood again! Thanks again for reading, until we meet again- make yer own damn news.

If you have local music news/gigs/CDs that you'd like to see mentioned in this space, or you'd just like to find out more about any of the artists listed above, send replies to: Tmygunn77764@yahoo.com.
Comments - Post Comment
The comments are owned by the poster. We are not responsible for its content.
---
NO comments yet! Be the first!