Pulse of the Twin Cities Login
If you do not have an account yet Create One.
Twin Town High (vol. 8)
'Round the Dial: Charley Dush's Breakdown Union
Wednesday 14 February @ 15:54:45
by TOM HALLETT

QUOTE OF THE WEEK: "Insomnia is my greatest inspiration." -Jon Stewart

SONG OF THE WEEK: "Ball and Chain"-Social Distortion

Ya know, I usually try to see past the worst shit happening to me and those around me (sometimes I eventually throw temper tantrums) and find the humor in most situations. Like Anna Nicole Smith rejecting $8 million in order to keep torturing the family of that old geezer she married nine months before he died, and the pair of twits who are arguing over who might be her baby's father. Wow, do ya think they'd be fighting so hard if there weren't those millions at stake? Hmmm. Or how about that moment at the Grammys (I promise, I only watched the Police opening and saw a flash of it before I started penning this column) when a bloated (and BLIND!) Stevie Wonder hopped up and tried to grab an equally bloated Tony Bennett's coattail while Tony obliviously kept trotting on up to the stage?

I even find a certain dark humor in the fact that this year, only days before Valentine's Day, some officials somewhere announced that a large portion of this year's Valentine's Day rose bouquets may be misted with some kind of horrid, flesh-rotting pesticide. There's gotta be some black humor in all of those situations--just like the ones that arise in our daily lives on what sometimes seems like a perpetual basis. Sigh.

Ya can't explain it, just roll with it and keep fightin' 'til ya can't get back up no more. Hell, it worked in third grade--and later, the bully grudgingly respected you and your guts. So next time you get in a fix, remember we all go through it, and never take it lying down, unless of course it's more comfortable that way. I'll quit ranting now and throw out a great local release that should lighten the load a bit and take your minds off the state of the planet for a few hours, at least ...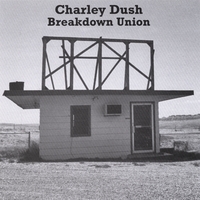 Charley Dush
Breakdown Union
2007
CFD Recordings

Local singer/songwriter/multi-instrumentalist Charley Dush has been steadily growing as a lyricist and a musician over the past few years--his self-titled debut hinted at an axe-slinger with a sensitive side who was absolutely gaga over The Beach Boys, Beatles and The Byrds. 2005's Highwood Hills found him waxing nostalgic about his youth, breaking down new musical barriers, and working with several lauded area rockers (Honeydogs drummer/co-founder Noah Levy and guitar guru Danny Vorderbruggen) to create a solid, self-styled genre all his own.

This year's Breakdown Union finds the man veering a bit off the pavement and onto some comfortable, winding country roads with the occasional detour into pop experimentation. Much of the sound differences in Charley's latest are the direct result of the addition of pedal steel/keyboard player Joe Savage, who contributes to the bulk of this record and whose timely, weeping swipes at both instruments add a fresh, heretofore unmined vein of Dush's musical canon.

Album opener "Two Lonely Travelers" rings out proud and jangly--like a Traveling Wilburys out-take--Dush providing both bass and guitar, Levy returning to provide a romping, toe-tapping rhythm and Pete Sands plunking away at an old-timey piano that recalls the tasty licks running through the best of Marshall Tucker or late-period Byrds. Danny V., Dush's musical soulmate in more ways than one, shares backing vocal duties (and supplements several cuts with righteously vicious guitar attacks) with old cohort Brian McGuire, making the overall vibe of the album one of wistful self-reflection.

"Ready to Leave" follows in the footsteps of its predecessor, Dush delightfully twisting turns of phrase, Sands providing ghostly keyboard assistance and Savage lovingly fingering his pedal steel. "Always Wanted Too" is decidedly more pop-inflected, Dush pulling out his infamous 12-string and the tune itself steered by the band's obvious studio camaraderie.

"Wits End" is a jumpy, thumping ode to the death of a relationship; "One More Day of Happiness" a Gram Parsons-inspired rural stomper wherein Charley lyrically longs for closure and a mutual settlement of the turbulent emotions inherent in a break-up: "Maybe tonight will feel like our first real good night," he urges, as the band romps along merrily behind him. "Somebody Tell Me" is a thought-provoking, catchy slice of heartache that's pushed and pulled along by Danny V's snarling axe-work and the Sands/Savage keyboard/pedal steel meltdown.

The album comes to a peak with the genuinely bittersweet ballad "Where Have You Gone Julie," Dush tearing open his chest and proudly displaying his battered heart while retaining a grain of dark humor as he spins a jingle-tangled tale of lost love and that inevitable failure one finds when trying to recapture a long-dusted relationship: "She wrote Brian Jones on her jeans / And for a kid of only fifteen / That's probably one of the coolest things that I'd ever seen."

All in all, a keen, life-affirming collection of stage-stompers, dreamy ballads and whipsmart lyrics--all backed by a band that clicks together perfectly for Charley's brand of pop/rock/countrified Twin Cities boogaloo. Great stuff, gang! Check Charley's latest out at charleydush.com or cruise to cdbaby.com to find his back catalog.

GIG OF THE WEEK: Don't miss the high-powered stage antics of one of my Top 10 Local Picks of '06 this weekend, as local rockers High On Stress take to the beloved, worn boards of the Hexagon Bar on Saturday, Feb. 17. As if that weren't enough entertainment for one night, the gig will also feature the kick-ass grooves of Big Ditch Road and very special guests The Snaps--Robert Wilkinson (The Flamin' Oh's) and drummer Steve Foley, who's served his time on the local front lines in many incarnations, most notably as Chris Mars' replacement in the late-period Replacements. 9 p.m. 21+. Free. 2600 27th Ave. S., Mpls. 612-722-3454.

Alright, I'm outta space, outta time for this week, kiddies. Tune in again, same time, same page for more local and national reviews, Thunder-Fuck inspired rants and belligerent, baffling bullshit. 'Til then--make yer own damn news.

If you have local music news/gigs/events that you'd like to see mentioned on this page, or you'd just like to hook up for a nice, soothing game of Rock 'Em Sock 'Em Robots sometime, send replies to: Tmygunn77764@yahoo.com. ||

Comments - Post Comment
The comments are owned by the poster. We are not responsible for its content.
---
NO comments yet! Be the first!