Pulse of the Twin Cities Login
If you do not have an account yet Create One.
Twin Town High (vol. 8)
'Round the Dial: Beneath the Underdog


Wednesday 28 March @ 15:07:13
by TOM HALLETT

QUOTE OF THE WEEK: "I think we're going to have to forget about the radio and just go back to word of mouth."--Joe Strummer

SONG OF THE WEEK: "The Painter"--Neil Young

RIP--Brad Delp, lead singer of Boston, 1951-2007.

Overheard in a local Homer, Alaska bar recently: "Jesus, I don't know why so many kids are all fucked up on dope these days. Where do they pick their habits up? What the hell makes 'em think drugs are the answer to all their problems?" No point in asking them why they think they'll be solving their problems by sitting in a bar drinking alcohol and smoking cigarettes five hours before Happy Hour starts, though.

This little query, however, aimed at one balding, ravaged-drunk and out-of-work fisherman by another, got me to thinking. I glanced up from my local newspaper (I was only there at that time of day to pick up my paycheck for DJing the night before) at the TV screen above the bar and caught a glimpse of the Cartoon Network flashing by as the bartender searched frantically for more violence-inducing, cash-obsessed sports programs for her clientele to gaze at between sidelong glances at her ass. She fairly flew past the station, but I caught enough to know I probably wouldn't like it and probably wouldn't let my own kids watch it. Like the sports channel that the TV ended up on, the show was chock full of mindless violence and no obvious plotline. I asked her to turn the volume down so I could play the juke, and, thankfully, she complied.

The cartoon was one of those anime' doo-dads that are obviously aimed at a teen audience, and before I could suss whether it had any redeeming qualities at all, the 'tender had found ESPN and I was headed toward the jukebox with a roll of quarters. While I picked my tunes out, I started thinking about all the influences that I, a guy in his early '40s with a lifelong appreciation for great cartoons, had been exposed to over the years. Me and the couple million other kids who grew up in the '70s watching cartoons on Saturday mornings while our parents slept off hangovers actually had to get up and walk from the chair to the TV to change the channels.

I can remember countless Bugs Bunny, Hong Kong Phooey and other infamous, classic cartoons that portrayed drug usage and drug-related apparatuses as if they were just naturally a part of those characters' worlds. When Bugs would end up in an episode that portrayed Middle Eastern backgrounds, there were always huge hookahs (water pipes used to smoke hash and marijuana) in the scenes. When Black Bart and his gang rode into town to face down Deputy Dawg, he'd frequently holler, "Look out, Black Bart's gun-crazy and fulla loco-weed!" Most importantly, though, I remember Underdog, a show that ran from 1964 (the year I was born) until 1973. That's a helluva lot of episodes cranked out by hand by artists who had no access to modern day technology, fakey animation or shows that were conceived for the sole purpose of selling a product.

I recall Underdog not only because it was one of the better written 'toons of its day, but also because, unlike Superman, Batman or even Mighty Mouse, Underdog was not always in possession of his superpowers. Sure, Superman had to duck into a phone booth and change clothes (what kind of fine do you think he'd get for doing that in downtown Minneapolis these days?) and Batman relied mostly on gadgets, wit and acrobatics to face down his enemies, but they didn't need any outside assistance to exercise their super-abilities.

Underdog, however, spent most of his time as a nerdy shoeshine boy (I think that was actually his name on the show--Shoeshine Boy) who spoke in rhymes and only became super-powered when the object of his heart's desire (TV reporter Sweet Polly Purebred) called out for him in times of danger and fear. "Oh, where, oh where, has my Underdog gone?" she'd wail, and Shoeshine Boy would find the nearest phone booth --yes, the program did a great job of poking DC comics' Superman character in the ribs whenever it could, even going so far as to having Shoeshine Boy call out in the opening credits, "Not a bird, nor plane, nor even frog, it's just lil' ole me, Underdog!"

The show lasted as long as it did because of the fine writing and drawing that went into it, the interesting villains Underdog faced (Simon Barsinister and Riff Raff among them), but as the years went by I believe that I, and millions of other Saturday morning temporary cartoon orphans were probably most affected by how Shoeshine Boy received his powers from a little magic pill he kept in a ring on his finger. Whenever his powers would wane, he'd simply pop the top on the ring, gulp down the pill and enthusiastically get back to kicking ass. So there ya go, Mr. Day-Drinker--one of the reasons why our generation (and the ones coming up behind us) equates taking medicine with conquering both our inner and outer demons.

Me, I find myself constantly wishing I'd come across that magic ring, even if it meant becoming a shoe-shine boy. I'd use it to spread the word about the scores of hard-working, under-appreciated artists and musicians I'm in contact with nearly everyday of my life. I think the show also instilled in me a lifelong urge to defend the underdogs around me, to side with the less fortunate, the abused, the neglected and the disrespected. So this one goes out to Underdog and all of those bands out there who feel like the underdogs of rock 'n' roll--keep fighting the good fight and never stop looking for that Power Ring ...



The Throw Backs
A Rock 'n' Roll Dream
2007
Newday Records

If any local outfit deserves the hardest working underdog award, it's got to be Dale Schuster and The Throw Backs. Dale first made his mark here in the Twin Towns with his '80s post-punk outfit Civil Defense, and despite a few side trips and more than his share of sucker punches, he's kept at what he does best for over twenty years now. The Throw Backs are a musical extension and natural progression of Civil Defense--the social, political, and personal relationships he railed and raged about back in the day are still present here, albeit with the added ingredients of years of experience and musical transformation obvious and straight-up.

The band has a killer tune up on their MySpace page called "We're The Throwbacks," in which Dale intones his band's credo and his own personal manifesto much better than I could ever word it: "In a cut-and-paste world full of internet song samples, teen idols and videos, there once was a band. They were hard to label, and never fit in. Always playing the right style at the wrong time. So they went away, never to sing again. But in time, they realized something: They don't care if they're not the 'happening thing,' nor do they care what the critics think. They've accepted and embraced their underdog fate. As long as their words and music come from the heart, the band will never part. They're back at last--they are The Throw Backs."

While it's likely true that most of today's "critics" just can't seem to find the time to really get behind local outfits and attempt to bring the Twin Cities back to the forefront of the nation's current music scene, after hearing both their debut album and A Rock 'n' Roll Dream, I almost suspect that ol' Simon Barsinister and Riff Raff have taken over the entertainment sections of some of our more prestigious local press outlets. This band kicks ass, and in a perfect world you'd know just as much about them as you do Ryan Adams or Bright Eyes or Damien Rice. Or maybe it's just that I've actually taken the time to hang out with this album, let it flow through me, around me, above me and found a treasure chest full of one punk/pop nugget after another.

Singer/multi-instrumentalist Schuster, along with his vocalist/keyboardist partner Jo Lynn, drummer/bassist Todd Nicosia, vocalists Cali Anderson and Vince Karschnia and sax-man Phillip Veording expertly combine their individual talents on this delightful collection of up-tempo, roof-rattling rock 'n' roll. Kicking off with dark organ riffs and Schuster's honey-dipped pipes, the title track manages to combine the giddiness of vintage New York Dolls, the pop savvy of Badfinger and the working-stiff ethos of Bruce Springsteen.

"Hold On To Your Dreams" is a driving, pumping beast of a pop anthem that finds the band in perfect harmony and channeling the Kinks, Mott The Hoople and just a touch of the Moody Blues. Schuster lays down an absolutely blistering guitar solo here, proving he hasn't lost any of the fire he used to spew with Civil Defense. "Tale Of Land To Sea" roils out on a Squeeze-ish vibe, unsettling yet impossible to ignore, the band members exploding in their own directions while always riding the sure bass line behind the tune.

"Cali" kicks off acoustically, then begins to rumble and thunder with all the power of a Neil Young classic; "When Love Was Young," one of the few ballads here, flows out of the speakers like a perfect amalgamation of Nick Drake and Jeff Buckley, Schuster asking, "Tell me if it's wrong / To daydream, when our love was young / Take me back, take me back to the days, when our love had just begun ..."

"L.P.'s" is a smashing ode to lost love and vinyl records, Schuster lamenting the fact that he can't make either his relationship or his turntable work, Jo Lynn providing powerful backing vocals and the tune augmented by harmonica and old-school axe work, ending with the sound of an album scritching and scratching as if the song were really recorded back in the day. "Baby Boomers" bounces and jangles like a Supergrass single, Schuster bemoaning lost innocence and voicing his concerns for the next generation.

There's really not a stinker in this batch, but my fave has to be the raucous punk ditty "Anxiety," which captures the fury and frazzle of Schuster's heyday with Civil Defense and finds him howling, "I just wanna die!" amidst a veritable guitar assault. If you dig The Kinks, Bowie, Lou Reed, mid-period Beatles and classic post-punk, this album's for you. Well worth owning and a great comeback for a band that's definitely in the "Should've Been" category for the 'Cities. Highly recommended. Check 'em out for yourself at myspace.com/newdayrecordsdschuster.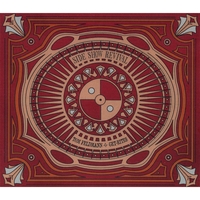 Tom Feldmann & The Get-Rites
Side Show Revival
2007
Magnolia Records

In the interest of full disclosure, I'll be up front here and let ya'll know that I frequently do PR work for local axe-slinger Tom Feldmann. But since he can't seem to catch a break anywhere else in the local press, I'm gonna let the readers know about his latest offering and why they should give it a shot. That being said, if you read my review last year of Tom's album Driven To My Knees, you already know that I truly believe he's an important and talented member of today's Twin Cities music scene with a straight-forward approach to both his songwriting and his increasingly complex musical palette.

Carrying on in the raucous gospel twang tradition of The Louvin Brothers, Gram Parsons and Uncle Tupelo, Tom Feldmann & The Get-Rites (Feldmann on vocals and his infamous resonator guitar, long-time Ben Weaver/Jack Norton sideman Paul Liebenow on upright bass and drummer Jed Staack) present a fresh, inspirational batch of country-blues-tinged material that's sure to amaze critics as well as win the band a legion of new fans.

Side Show Revival, Tom's tenth album (and tenth year in "the biz"), is a delicious mish-mash of up-tempo aisle-dancers, goose-flesh-inducing ballads, and wisdom-inflected ruminations. "Ain't no old-time religion / Gonna set your spirit free / It's a new touch from heaven that ya need," he urges on the medley "Old Time Religion/Heaven," a tune that's every bit as hard-hitting and spiritual as time-tested standards like "Atomic Power" and "God's Own Singer" were/are.

While it's clear from the get-go where Tom's musical energy is directed (just look up!), it's definitely in a category by itself--Feldmann isn't preaching here, he's channeling a positive muse and backing it up with fiery guitar licks, down-to-earth lyrics (One listen to "Magdalene," with lines like, "Whiskey in my coffee helps me through each new day / But I ain't no drunkard, so don't you ever treat me that-a-way," proves he's a unique phenomenon), and expert production and guest spots from lauded boardman Mark Stockert only serve to bolster the mind-boggling impact of this outfit's message and style.

But don't take my word for it--check out Tom & The Get-Rites yourselves this coming weekend, when they celebrate the release of SSR on Saturday, March 31 at the 318 Café' in Excelsior. The gig kicks off at 8:30 p.m., and the cover is only $7. You can also check the band out at tomfeldmann.com. A must-see.

FYI: Just thought I'd pass this one along for those of you who may be interested. As a life-long fan of Neil Young and an avid supporter of female rockers/artists, I think it's a pretty cool idea, and encourage all local female artists to give this one a shot:

FOR IMMEDIATE RELEASE: American Laundromat Records and Daisy Rock Guitars recently announced a Neil Young cover song contest. Unsigned female artists can win a spot on a nationally distributed benefit CD, a Daisy Rock Guitar and more! ALR and Daisy Rock Guitars are co-sponsoring a contest inviting female artists and female-fronted bands to submit a cover version of Neil Young's "Only Love Can Break Your Heart" to win a Daisy Rock guitar, consideration for an official Daisy Rock endorsement and a guaranteed slot on the upcoming American Laundromat Records benefit CD "Cinnamon Girl --Women Artists Cover Neil Young".

All proceeds from the Cinnamon Girl project will be donated to Casting For Recovery, a national non-profit support and educational program for women who have or have had breast cancer. Tanya Donelly, Jill Sobule, The Watson Twins, Kristin Hersh, Lori McKenna, Josie Cotton and Britta Phillips are just some of the outstanding female artists covering Neil Young for the Cinnamon Girl benefit CD, which is due out on October 3, 2007.

To be eligible, bands must meet the following requirements: Have a lead female vocalist and at least one female guitarist or bassist, have a website and/or MySpace page and gig regularly at local clubs and venues. It also doesn't hurt to be a fan of Neil Young's music. The contest winner will receive a guaranteed spot on the Cinnamon Girl benefit CD, a free Daisy Rock guitar or bass and consideration to earn an official Daisy Rock endorsement.

Winners will be announced worldwide on the American Laundromat website (air-music.com) and their MySpace page, as well as the Daisy Rock web site and MySpace page. To enter, artists are invited to submit their cover version of "Only Love Can Break Your Heart" on CD to American Laundromat Records, c/o Cinnamon Girl Contest, P.O. Box 1428, Pawcatuck, CT 06379. Submission deadline is May 15th. The winner will be chosen and announced on June 1. Any questions regarding the contest should be directed to americanlaundromat@hotmail.com with the following in the subject field: "Cinnamon Girl Contest Question."

That's about all these ol' bones can shake out this week, gang--tune in next time out for more raves, rants 'n' reviews. Keep your ear to the ground and your eyes to the skies, and never forget to make your own damn news.

If you have local gigs/events/CDs you'd like to see mentioned in this space, or you'd just like to chat about old episodes of Underdog, send replies to: Tmygunn77764@yahoo.com. ||


Comments - Post Comment
The comments are owned by the poster. We are not responsible for its content.
---
NO comments yet! Be the first!