Pulse of the Twin Cities Login
If you do not have an account yet Create One.
Twin Town High (vol. 8)
Aviette: The ideal Dave


Wednesday 10 January @ 16:26:50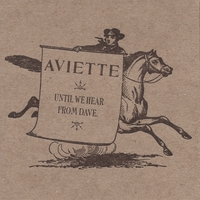 by BOB LONGMORE

Can a band be noisy and minimalist at the same time? The first time I heard St. Paul based Aviette, their seemingly freeform style of music left me a little bewildered, but still wanting to hear more. With each subsequent listen, I hear something new. Their music is deceptive—on the surface, it sounds sweet and easy, but looking deeper, there is a darkness and complexity.

On their new album, Until We Hear From Dave, Aviette augment the simplicity of a three-piece indie-rock band with skewed arrangements and chugging atonal chords. At times, the band has a straightforward rock feel with a Spoon-like sense of groove and propulsive drums. Other times, the band veers off into spacey textural sound swells.

Holly Muñoz, singer and guitarist for the band, uses her voice more as an instrument than a means of communication. She sings with passion, but the words are usually abstract panoramas of emotion. On "Everest/ Spyhunter," she evokes mystery and longing out of seemingly innocuous phrases such as "The weight we carry weighs." There is an attitude present in her voice and you can imagine her singing these words with a sneer.

Bassist Justin Hartke sometimes abandons the bottom end entirely and dedicates his instrument, with the help of some pedals and an E-bow, to making weird noises. While these different elements help define the band's sound, the music never veers so far in either direction that it sounds out of place. The band balances the experimental with the standard to create challenging and uniquely engaging brand of music.




The group started in 2003 with drummer Kyle Larson teaching Muñoz some guitar basics. The acoustic duo, then named Maelee Whitman, moved back to Minneapolis from Chicago armed with a new EP and ready to jump into the Twin Cities music scene.

With Larson and Muñoz sharing guitar and singing duties, the group struggled to find the right sound and personnel. A revolving cast of musicians floated in and out of Maelee Whitman before the group solidified into a trio. "The last show that we played before we went to a three-piece, there were six or seven people in the band," says Larson. "It was cool, but we just couldn't contain that."

With Hartke on board, Larson made the switch from guitar to drums. With this new configuration—a bass player whom his bandmates refer to as the best musician in the band, a guitarist with only a couple years of playing experience and a drummer who had never played drums before—Aviette was born. The self-described new wave folk band that had existed before as Maelee Whitman was reborn as a dark, brooding indie-rock band.

"We felt like we had changed a lot and maybe needed to kind of break away from what we were," says Larson.
The band's collective inexperience led to some experimental ways of thinking about music. Muñoz reflects on Aviette's beginning, "When I started playing guitar and writing I had no idea what I was doing and in that sense you find yourself coming up with chords and arrangements that are maybe discordant or unique sounding."

The band had to relearn how to play music as a three-piece. "We kind of mess around with it and it does work," says Larson. "In our world, it does."
So shortly after finding their lineup and changing their name, the band embarked on their first tour, which took them on a month-long jaunt across the southeastern part of the United States. "I wish we could just tour all the time," says Muñoz. The band later ended up playing the North by Northeast festival in Toronto.

They took all these adventures and experience and poured them into the making of Until We Hear From Dave. Two aborted attempts at making the album resulted in a two-year gestation period for the music. Trying to find the right mix of studio location, engineer and sound, the band finally hired Devon Bryant and Jon Raymond from Chicago to do the job. Using Bryant's portable recording studio to record the basic tracks in Larson's Mom's basement in Hudson, the band finally realized their vision for the album. "We knew after that session," says Muñoz. "We just knew we had it." The album was finished in Bryant's studio in Chicago.

"Dave's an ideal," says Muñoz, explaining the title. "Dave is where we want to go." I received a much deeper answer than expected when I asked about the name of the album. Each member gave his or her own interpretation of Dave, which is basically the idea of trudging through the scene as a rock band. Playing shows for not much money, trying to get a little bit further and always trying to push it forward. They talk of day jobs, touring and someday being full-time musicians and waiting for all that to happen. Dave is the personification of being a good local band, trying to get a step ahead.

For all the delays and mutations the band has endured, the fun of being in a rock band is still present in the members. It's just that they are not taking any of it for granted. Muñoz sums the band's state of mind and their relationship with Dave: "We're taking it seriously. This is our art and we respect it." ||

Aviette play Thu., Jan. 11 at O'Gara's Garage with A Night in the Box, The Gravities and Big Muck. 9 p.m. $5. 21+. 164 Snelling Ave. N., St. Paul. 651-644-3333. They're also performing Sat., Jan. 13 at the Hexagon for the Rift Magazine Party with Beight, Skittish and the Roe Family Singers. 9 p.m. Free. 21+. 2600 27th Ave. S., Mpls. 612-532-3688. For more info on Aviette, check out their website at aviettemusic.com.

Comments - Post Comment
The comments are owned by the poster. We are not responsible for its content.
---
NO comments yet! Be the first!